MONDAY - FRIDAY 9AM TO 5PM / THURSDAY 9AM TO 8PM / CLOSED SATURDAY AND SUNDAY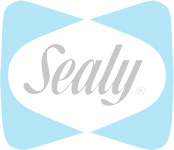 Sealy is the biggest bed brand in the world and has been steadily growing for over 100 years. They can trace their origins back to the late nineteenth century and the original cotton-filled mattress produced by Daniel Haynes in the town of Sealy, Texas.
In 2013 Sealy Inc merged with Tempur in the USA to create a company that operates in over 50 countries worldwide. Sealy beds and mattresses can be found on every continent; everywhere from Australia, Brazil, Canada, Japan, and South Korea to the UK where they have operated for the last forty years.