MONDAY - FRIDAY 9AM TO 5PM / THURSDAY 9AM TO 8PM / CLOSED SATURDAY AND SUNDAY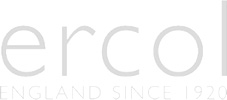 Ercol was founded in 1920 by a young Italian immigrant, Lucian Ercolani, whose simple goal was to make furniture that was well designed and made in a good working environment by craftsmen who really took pride in their jobs. Since the start of the company in 1920, design has always been at the heart of Ercol – design for comfort, design for function, design for beauty.
They combine practicality with looks, be it the copious storage of their sideboards, shelving units, bookcases and display cabinets, the comfort of their studio couch and of their chairs, or the utility of the coffee tables, lamp tables, desk and media units. As well as Ercol's in-house design team, they commission some of the best in British design talent to bring you some outstanding furniture.
Ercol designs constantly evolve to reflect how you live today, whilst continuing to reflect ercol's quality and craftsmanship.